Sustainability is really important to us. Here are some of the areas we are using re-used, recycled, or recyclable materials! Rat King Co. products are designed and assembled locally in Meanjin and handmade wherever possible.


📦Packaging
Cardboard boxes, foam inserts, and bubble mailers are all sourced from Reverse Garbage Queensland, a Co-Op that saves mass-produced materials from landfill. The cardboard boxes are also recyclable and biodegradable! Packaging is decorated by hand.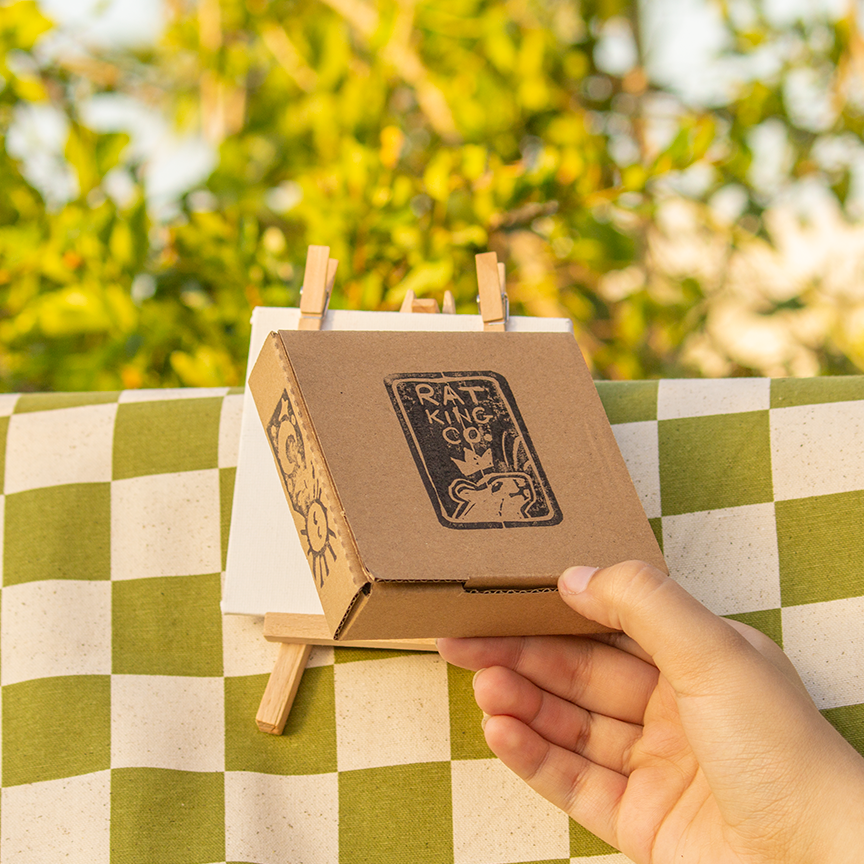 Paper bags are hand-stamped and 100% recyclable/compostable, and are a better alternative to protecting prints than cellophane sleeves.


🃏Backing cards and business cards
Made from 100% Envirocare recycled paper that can be recycled again. They are designed locally and printed in Meanjin by local small business ePrint Online.


🐀Rat plushies
Manufactured in Australia with the squeaker made using recycled PET plastic bottles!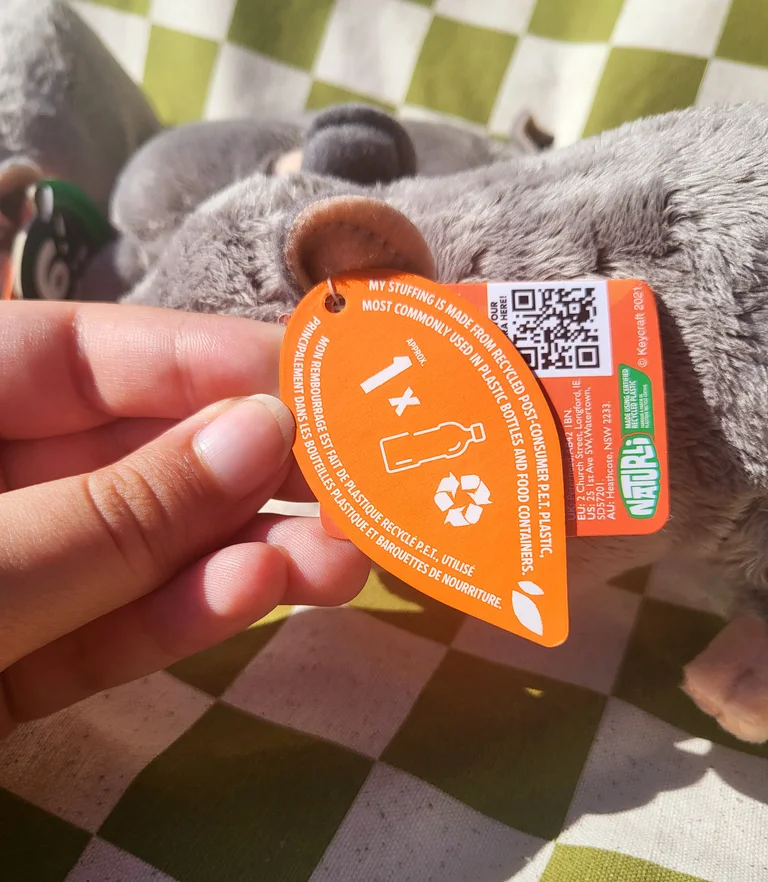 🛍️Tote bags
Totes are made with 100% cotton and screenprinted by hand in Meanjin by a local small business Poly Gone Cowboy, using water-based ink. In addition to being much gentler on the environment than plastisol inks, water-based ink looks better, feels softer, and lasts longer. They are also biodegradable!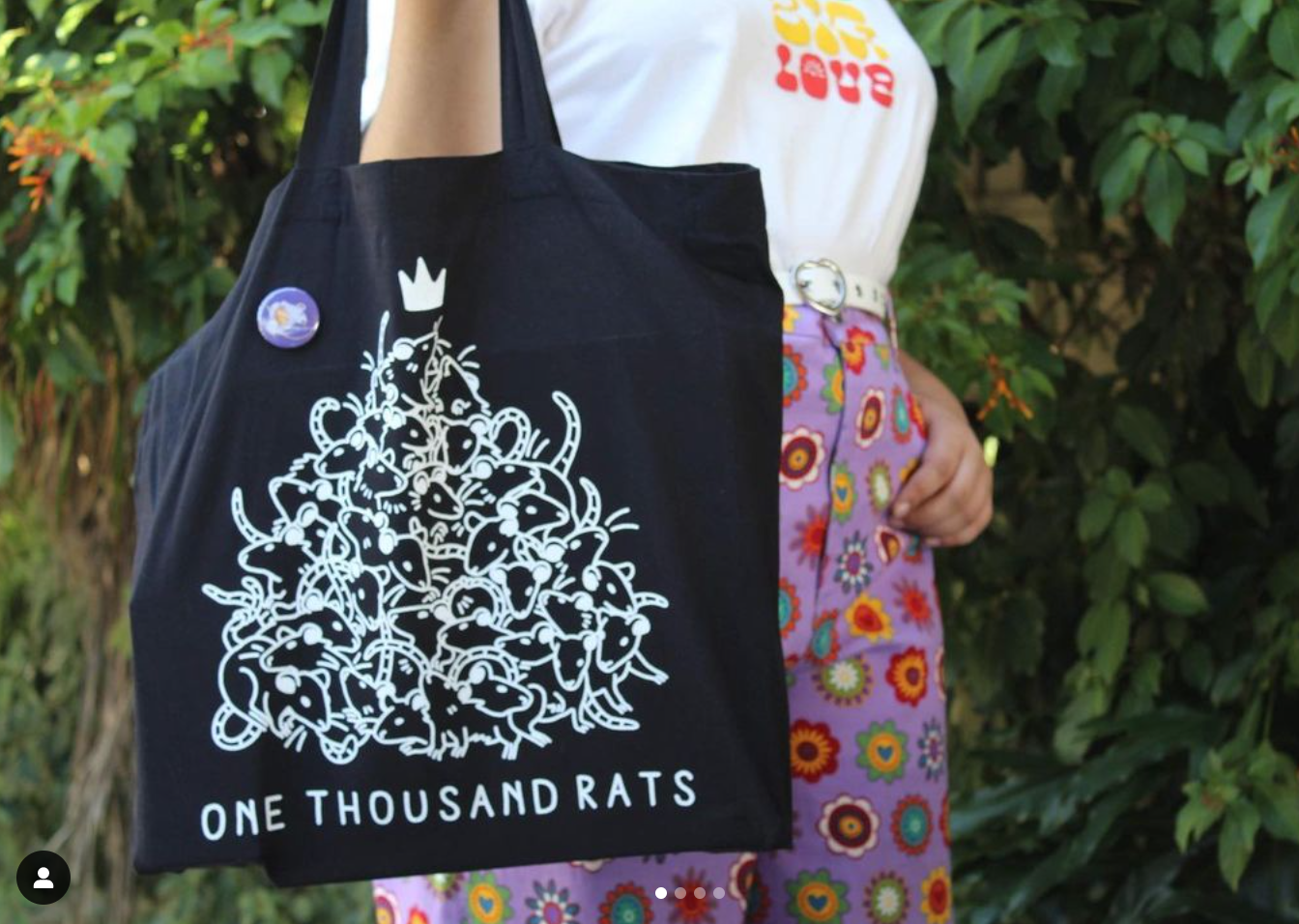 🖼️Art Prints
Art prints are designed locally and printed by local Meanjin-based small business ePrint Online. They are printed on 100% recycled Envirocare paper.

Non-foiled prints are 100% recyclable. Foil prints contain a celloglaze protective film which can be removed to recycle them - this is so that the prints remain beautiful for longer!


🌍Stripe Climate
We are partnering with Stripe Climate to improve technologies for carbon sequestering! Unlike carbon offsetting, which is a simplification of a very complex problem (and not very effective!), carbon sequestering actually removes CO2 from the atmosphere. 1% of revenue from orders made via this website go towards Stripe Climate, with the hopes of increasing that amount soon.


✂️Fabric lining and pouches (coming soon!)
Fabric sourced from RGQ and hand-sewn into fabric lining and protective pouches for bags and jewellery! By making them out of fabric, they can be re-used again and again.
🐻🧸Teddy bags (coming soon!)
Are made of 100% re-used or reclaimed materials. Teddies are sourced from various thrift stores or buy-swap-sell groups with findings and linings from RGQ. Teddy bears are one of the most often donated items at thrift stores, and most remain, abandoned. By turning teddy bears into backpacks and bags, we give new life to once-beloved toys that would otherwise be thrown out!
✨🐀✨
We're a small business and we're doing our best to improve the quality of our work. If you have any feedback of how you think we can improve, please feel free to message or DM us at any of our social media, or email via our contact form.
✨🐀✨